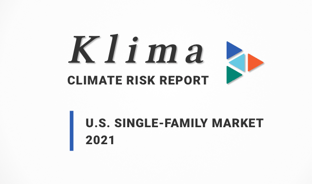 PRESS RELEASE
Climate Risk Analysis Report Measures Flooding and Wildfire Risk in U.S. Single-Family Property Market and CRT Bond Market
DeltaTerra's Klima™ Report Estimates $1.2 Trillion – $1.9 Trillion of Climate-Driven Value Loss Across 17 Million Single-Family Homes
Natick, Massachusetts - July 27, 2021 – DeltaTerra Capital, an investment research firm focused on climate risk analysis for institutional investors, released a report assessing climate impact on the single-family housing market across the continental United States. Using the proprietary DeltaTerra Klima™ climate risk measurement platform, the firm estimates that rationalization of climate risk mispricing could begin in the next two years and ultimately lead to value losses ranging from $1.2 trillion in the base case scenario and $1.9 trillion in the bear case. These losses could significantly impact investment performance for exposed securities such as credit risk transfer (CRT) bonds for the next five to 10 years.
DeltaTerra's Klima Climate Risk Report integrates the latest climate science forecasts and econometric modeling to estimate future damages and homeownership cost increases, which then inform estimates for single-family property value loss in exposed high-risk areas across the contiguous U.S. To make this information actionable for institutional investors, these estimates are incorporated into advanced proprietary financial risk models to derive Klima climate risk metrics at the loan, deal, and bond levels for the $50 billion CRT market. The report uses the STACR 2020-DNA6 CRT transaction as a case study and indicates how potential value losses would impact its performance.
"We created Klima so that institutional investors could accurately assess how climate change will impact investments at both the asset and CUSIP levels. This enables not only clear risk mitigation strategies to meet client demands and potential regulatory changes, but also a compelling opportunity to generate climate driven-alpha while climate risk mispricing persists," said Founder and CEO Dave Burt.
This report marks DeltaTerra's first publication using the Klima platform, which was developed to provide institutional investors with climate risk metrics that accurately measure not only expected damages from hazards but also potential property value declines resulting from rising ownership cost expectations. The Klima platform also maps property valuation risk to default risk for mortgages supporting CRT bonds to arrive at decision useful bond risk metrics, making DeltaTerra's Klima CRT an indispensable tool for asset managers seeking actionable investment insights. To download the report summary, request the report, and inquire about access to Klima analytics products by subscription, data feed, or investment platform plug-ins, please visit www.DeltaTerraCapital.com/news-research/klima-report-2021-summary.
About DeltaTerra Capital
DeltaTerra Capital is an investment research and consulting firm based in Natick, MA that provides institutional investors with the tools they need to understand, mitigate, and manage climate risk to improve investment performance. Founded in 2019 by a team of experienced real estate derivatives portfolio managers, the firm's Klima Climate Risk Platform and its analytics products bridge climate science and investment science to deliver actionable investment insights. For more information, visit www.DeltaTerraCapital.com.
Share

Published on July 27, 2021.
Klima reports are not intended as investment, transactional or insurance advice to any person or regarding any specific security or other asset.