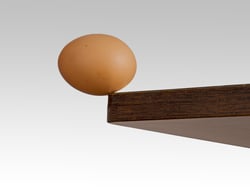 Risk Rating 2.0 (RR 2.0) rates went into effect for new National Flood Insurance Program (NFIP) policies on 10/1. Renewals will not see price increases until next May, and those will be capped at 18% per year. However, with Special Flood Hazard Area (SFHA) take-up rates at just 30% nationwide, nearly 4 million U.S. homes remain uninsured even though they are subject to a mandatory flood insurance purchase requirement for mortgage borrowers.
Homeowners requiring new NFIP policies could face premia that have risen up to tenfold from rates seen on 9/30. These increases are all the more significant because NFIP was the most affordable flood insurance provider in the U.S., and the only option available in some high-risk areas.
To see how RR 2.0 implementation is progressing, we analyzed data from FEMA on NFIP policies written during October and early November. The starkest finding was that very few new policies were created, suggesting that homeowners and homebuyers are turning down the new rates. Assuming the trend continues, this is an unprecedented drop in the creation of new policies as a percentage of total policies.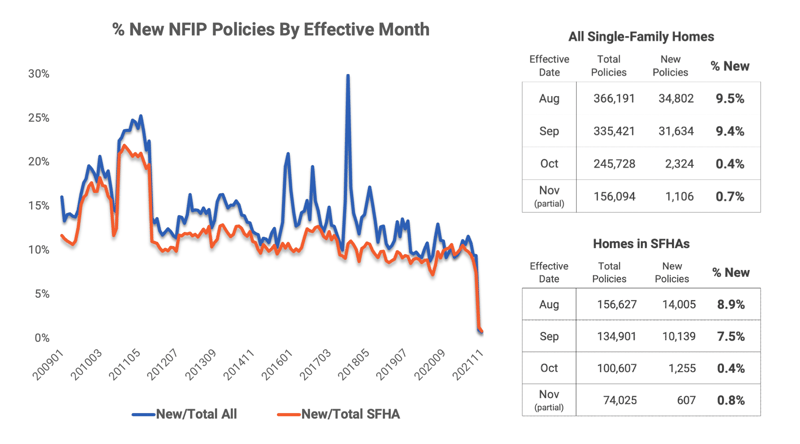 FEMA could lose roughly 30K homeowners per month who would have purchased new policies under the prior rating methodology. Roughly half of them are in SFHAs where flood insurance is required for a mortgage. We are working on some key questions related to the downstream implications of this finding.
How many rate offers on new policies were rejected by SFHA-resident borrowers trying to refinance their mortgages after falling out of compliance and how many were rejected by borrowers in the process of trying to purchase a new home?

How many of these same applicants found alternative private offerings vs. walking away from their purchase or refi?

How will policymakers restore affordability for those in need and evolve the mandatory purchase requirement (MPR), along with its enforcement, given the steeper cost of entry into the NFIP?
Sales are slowing in regions with the highest expected RR 2.0 rate hikes.
Below is a simple illustration of sales growth trends in the most impacted counties, wherein a modeled base case revaluation of SFHA homes (subject to the MPR) would lead to a 5% or greater single-family home market correction for the county. Sales growth is slowing everywhere but the October dip appears to be led by the counties most impacted by RR 2.0. We put Lee County, FL on the chart by itself as an example. About 40% of the homes in Lee are in SFHAs and our model suggests these are overvalued by 44%, even when assuming our base case climate scenario (tied to RCP 4.5), which is a relatively benign expectation for future hazard risk increases and insurance costs.
Redfin published county level weekly home sales data through the week ending 11/20. The slowdown in sales we noted in our research update continued into November based on preliminary data. In the 86 counties with the highest exposure to RR 2.0 rate resets (due to a combination of low take-up rates and previously over-subsidized pricing), sales were down -9.9% in October vs. a -3.4% decline in the 1,605 counties with less exposure to the 10/1 pricing adjustment.
This article about a recent Town Hall meeting in Cape Coral provides a number of anecdotal points supporting major RR 2.0 problems in Lee.
"'You know what's going to happen? The economy is going to crumble. Every single trade that builds a home is going to be affected, and one builder lost six contracts in one week. We're going to feel it in Lee County,' he said."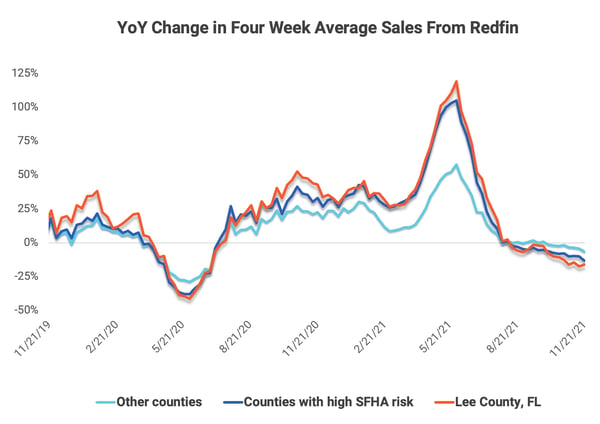 Research suggests only 30% of SFHA homes hold flood insurance despite the MPR.
Congress created the MPR in 1973 to encourage participation in the new NFIP program initiated in 1968. The MPR requires lenders to ensure homeowners hold flood insurance throughout the life of the loan when borrowing against a home within an SFHA. Despite many reforms over the last 50 years aimed at strengthening the MPR, it is still dogged by widespread compliance issues. RR 2.0 greatly increases the cost of noncompliance because the 18% annual cap on rate increases is unavailable to homeowners whose policies have lapsed. We and others have estimated that only 1 in 3 SFHA homes are currently insured for flood.
For me, this is the most mind-boggling debate in mortgage finance right now: Assuming that all unmortgaged properties forego flood insurance, the data suggest compliance of only 50% on mortgaged homes that are subject to the MPR and yet lenders, agencies, and regulators repeatedly suggest that compliance processes are robust and mortgage investors needn't be concerned.
The U.S. Government Accountability Office, a government agency, confirmed noncompliance and shared similar sentiments when they released an extensive report in July on the need to update the MPR. We highly suggest a read of the full report, particularly Appendix III which speaks to the difficulties around measuring compliance and offers a compelling study on the duration of NFIP policies. As an example, the GAO's analysis shows 28% of all NFIP policies created in 2014 had lapsed by 2019.
We used NFIP policy data from FEMA, SFHA home counts from risQ/Level 11, agency mortgage disclosure data direct from agencies, and a variety of other housing market data sources to develop our own educated guess at compliance in each continental U.S. state. The illustration of this compliance estimate vs. the % share of a state's home stock within an SFHA suggests that compliance processes are robust in a few highly exposed coastal states but may not be properly supported in others (particularly those exposed to inland flooding risks).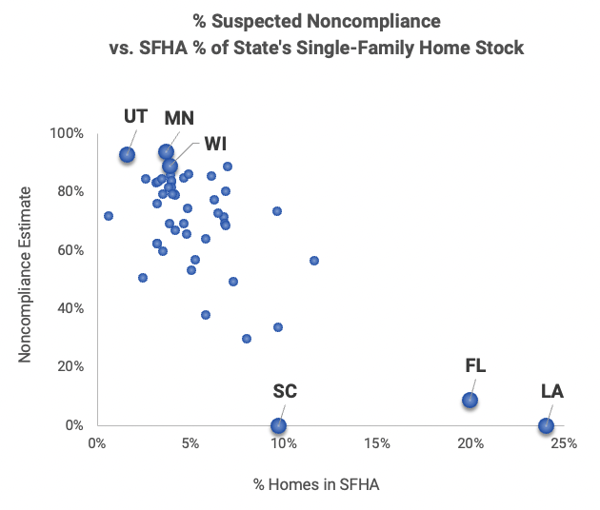 Risk Rating 2.0 may inequitably impact lower income communities.
We are very concerned about the impact of the Risk Rating 2.0 initiative on low compliance communities that will see little benefit from an 18% regulatory cap on annual premium hikes, which are only for existing policyholders and protects them from very large and sudden rate hikes under the new rating program. This policy is made more troubling by the fact that flood insurance take-up rates are lower in lower income communities that struggled with affordability even before the rate increases. The table below from a 2018 FEMA report to Congress on these affordability challenges illustrates the magnitude of this gap. The median household income of non-policyholders in SFHAs was estimated to be just $40,000, which is barely more than half of what policyholders in SFHAs were earning.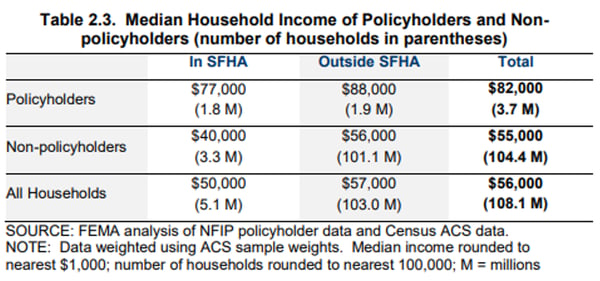 The absence of an annual cap in flood insurance cost hikes will be damaging to affordability and credit availability in these communities that are home to millions of households with modest means. The prices of their homes are likely to decline with the dramatic increase in mandatory insurance costs, further eroding their financial wellbeing.
While RR 2.0 contains some new equity-supportive features (and has even been labeled "Risk Rating 2.0 – Equity in Action" by FEMA), our concern is that the absence of a cap on rate hikes for uninsured homes will undermine the equity objectives of the program. Unfortunately, these challenges make this important initiative difficult to support, so we are speaking to the various government agencies involved to discuss the problem and help to find a fix.
Share

Published on Dec. 13, 2021.